How long have you been a photographer?
I shot my first wedding in 1981. I started shooting portraits, weddings, band promo shots and events since the days of film and darkrooms.(back to top)
Where did you get your training?
I have a BA in Journalism/Photojournalism from the University of Maine. During my time at Orono, I took every photography course offered. This included studies in photojournalism, art and the printmaking process. After I left Orono, I then studied color photography, lighting and color printmaking through the University of Southern Maine art program. The hands-on training was very valuable and much more intensive than online programs can ever be.(back to top)
Why is professional photography so expensive?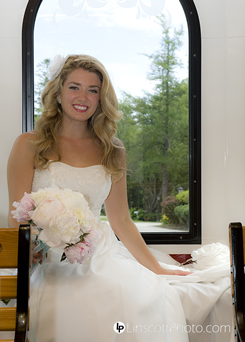 The hours you see me shooting are just the beginning of the process. After a quality image is captured, I will then spend up to two hours per image removing blemishes and stray hairs, whitening teeth and applying filters. I use Photoshop to make adjustments and correct color before they go to the lab. Top quality leather bound albums are not cheap. Plus, expenses of Nikon equipment, lenses and lighting all add up. In the end, you get what you pay for. For example, if you were having cosmetic surgery, would you rather get the discount of a new doctor who got his degree online or pay a bit more for the doctor who went to med school and has performed lots of successful surgeries? How important are your memories to you?(back to top)
I know someone who has a nice camera. Why shouldn't I just let him do it?
A nice car does not make you a NASCAR driver. I hear so many horror stories from disappointed people. It's sad. Does your friend have backup equipment if something goes wrong with his camera? Does he understand aperture and its impact on shutter speed and depth of field? Does he have experience organizing people and holding to a hectic schedule? What lab does he use for prints? Is it a pro lab? What products can he offer? What does he use for editing? Just be careful and don't say I didn't warn you if your friend doesn't give you the results you want.(back to top)
Yes. But the prices quoted on my website are for services within 120 miles of Portland. Beyond that I require 50 cents per mile. If distance requires other expenses such as meals, lodging, and airfare, those costs will be added to your package. Destination weddings can be discussed further.(back to top)
Can I buy just the unedited, raw digital images on disk so I can print them myself?
We aren't Shoot-Dump-Run photographers. Your images and our art are too important to us to allow our clients to go without top quality albums, prints and canvases. You will be able to download your files but we do not offer any "files only" packages. Individually printed, color balanced images on quality photo paper will look much better than shots you have printed at Walmart or on your color laserjet printer. If you just print images with no retouching, color adjustments or softening filters, your images won't look nearly as good as if we do the editing and provide the prints through professional suppliers. (Millers Professional Imaging) If you have to have a photographer who will just shoot and provide you with the unedited images so that you can edit and print whatever you want, we can discuss it. I recommend this option only for those who have advanced skills in computer graphics and photo editing. Why spend hundreds on a photographer if you are planning to have Rite Aid spit out machine prints at 29 cents each? (back to top)
How long will I have to wait for my prints?
It depends on the season and my workload. I will have an online directory up for you within two weeks - sometimes sooner. After you make your selections I will normally have your product to you within three months. Rush processing is available for an additional fee.(back to top)
I always shoot with at least two camera bodies ready to go. I use a Nikon D800 and Nikon D700 and have a D300 as well. With three cameras shooting your wedding you can rest easy.(back to top)
Will we need to meet before you shoot our wedding?
Normally, yes. We will want to sit down to go through a list of formal poses and group shots that you will want me to take in addition to capturing the rest of your day. Plus, you want to get to know me a bit so you can relax. And, I'll want to get a feel for your style and personalities. I work best with bridal parties that like to have fun because I love to joke around and lighten the mood. As long as you are not Bridezilla, we're going to have a great time together. I don't work with Bridezilla; life's too short to waste time with mean people.(back to top)
Can't Photoshop fix everything?
While Photoshop is a fantastic program and very powerful, you need to be careful with it. Numerous photographers use it to alter pictures in big ways. The key is to start off with a good image and make it better. Unfortunately it is often used to try to make weak photographs acceptable. I use Photoshop for color balancing, touch-ups and whitening but I won't go overboard with the gimmicks it offers. For a laugh, try to spot the problems in "The 52 Worst Photoshop Mistakes in Magazines."
I like to enjoy life and laugh a lot. I'm a perfectionist and a planner. I like to be early and well-prepared. My goal is to tell your story with quality images that you will love to show others. I want you to enjoy our time together. Be careful when photographers present themselves as a "photojournalist." In some cases, that might mean that they are not able to confidently direct people and get the bridal party working together in a timely manner for the timeless shots that you will treasure for years to come. I am both a story teller and an artist.