This is our family. Second only to our faith, these people are everything to us. Why am I telling you this? Because knowing what we value will tell you how we approach life and photography.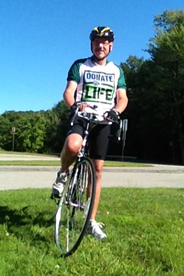 Your wedding is more than just another gig to us. It is the beginning of your own family picture. We love being there with you and see it as an honor when you invite us into your day. I think that is why we approach weddings the way we do. Brides frequently tell us that they are surprised by all the special moments we capture that are side moments and not the focus. It's the conversation with grampa when you thought no one was looking and the moment alone with your mom. It's your dad trying to hide his tears while you recite your vows. It's the look on your groom's face when he sees you in that dress. It is the closeup of Gram's pin that you attached to your bouquet.
If you come into our home you will see photographs on our walls. Some are posed with timer on tripod, like the shot above that we set up during our last family vacation, but others are showing life as it happens.
In 2012 my oldest son Josh, third from left, saved my life by giving me 60% of his liver. I was very near death; mobility scooter, adult diapers, swollen and yellow. Going through that horrific time that cost us our home, our savings, and our retirement funds, opened our eyes even wider to what truly matters in life: faith and family. Life is about people. It's about relationships. We now often say, "every day is a bonus day." It is so true. Robin and I love living a full life, traveling, cycling, helping children in third world countries and being active in our church and community.
That's why we approach your bonus days with such care. We value our relationship with you and love meeting new friends but we want to make sure that you have all you need to look back on your day through photos that bring back the emotions, the smells, the laughter and the tears. We love it when our brides take the time to give us reviews and feedback.
"They have frozen in time the best day of my life with every special detail: me hugging a dear friend I hadn't seen in a long time, dancing with my best friend's dad, kissing my grandmother goodnight, dancing and the list goes on. They were everywhere, all day, from start to finish and their photos bring the day back to life." Hannah Tackett
I hope you'll seriously consider us to photograph your wedding. We would love to be involved.
~ Scott
Scott's photography bio:
My love for photography began when I was about 13 years old and got a 110mm camera as a gift. My mother encouraged my efforts and said that I had a natural eye for the craft.

By the time I entered high school I had saved enough pennies to buy a fully manual Minolta 35mm camera and handheld light meter. My high school had an excellent graphics tech school with a fully equipped darkroom and print shop. My hunger for improvement had me reading everything I could find and joining a local photo club. By my senior year (1981), I had shot several portrait sessions, two weddings and did publicity shots for a couple local bands. In addition to shooting for the yearbook and school paper, I also had photos published in the Lewiston Sun Journal. It was big deal stuff for a kid!

In 1981 I began my journalism studies at the University of Maine in Orono. During my years at Orono I took every photojournalism and photography course offered, enjoyed hours in the campus darkrooms and served a semester as Photo Editor for the Daily Maine Campus newspaper before switching to a news/editorial focus. I followed up my photojournalism training by studying the Art of Color Photography and Print Making at the University of Southern Maine Art School from 1985-1987. It was at UMaine where I met and married my wife, Robin.

In 2003 I made the plunge into the world of digital photography with a Panasonic DSLRe. I loved the instant results but was frustrated by low-end digital issues of shutter lag and limited ISO settings. Shooting sports events was very frustrating since my DSLR could not compare to my 35mm equipment shooting 7 frames per second. Next I tried a Nikon D70 but still could not capture good action shots with only three frames per second. That led me into the professional DSLR ranks with a Nikon D1H.

Today I shoot mostly with a Nikon D800 and a Nikon D700 process with Adobe Photoshop CS5 and Lightroom and have a full range of lenses and accessories including an SB-900 lighting system with mulitple Pocket Wizard slaves.

Robin has gone from being my assistant to a talented second shooter by apprenticing with me over the last several years. She loves shooting and is growing her skills more and more each year. We love shooting together but the real bonus is for our wedding clients because they now get two photographers.

10 Worst Mistakes Brides Make in Wedding Photography

1) Using a friend or relative who has a photography hobby.

2) Trimming your budget by cutting the only area that remains after your wedding: the photos.

3) Trusting a photographer who lacks the resume, training and experience to deliver what you expect from a professional.

4) Choosing a photographer who will just give you the digital files. We call them "shoot, dump and run" photographers.

5) Overdosing on Pinterest. Do you want your wedding to be your own or just a copy of someone else's? Get ideas but add your own personality.

6) Choosing the "photojournalist" who promises to "capture your day." (Often means portraits are neglected because they do not feel comfortable directing people.)

7) Choosing the "artist" who promises creativity and delivers cool shots of shoes, flowers and sunbeams across faces. (see #5)

8) Waiting too long to book your photographer. The good ones often book a year or more out.

9) Not taking the time for an 'engagement session' where you and your photographer get comfortable with each other.

10) Failing to finalize the wedding day schedule and details with your photographer..
Volunteer work:
-AMG Guatemala
- Donate Life
- Community Events